NEONATOLOGY ON THE WEB
---
Charlotte Box
The Charlotte box was named after Queen Charlotte's Maternity Hospital, London. It was originally a way to give oxygen to sick babies. However, it was soon used in new special care baby units to transform cots into simple incubators. The outlook for premature babies during the first half of the 20th century was very poor. Survivors often experienced brain damage and intellectual and physical disabilities. New techniques and technologies after the Second World War increased survival rates. These included mechanical ventilation to help newborns breathe, and feeding newborns via tubes directly into their blood vessels. However, the rudimentary heating system in the 'Charlotte box' comprised a hot water bottle and thermometer inside the Perspex box. Research and development through the decades saw incubators improve to be able to monitor blood pressure, oxygen levels and lung function.
Manufacturer: Oxygenaire Limited
Location: Greater London, England, United Kingdom
Dates: 1945-1955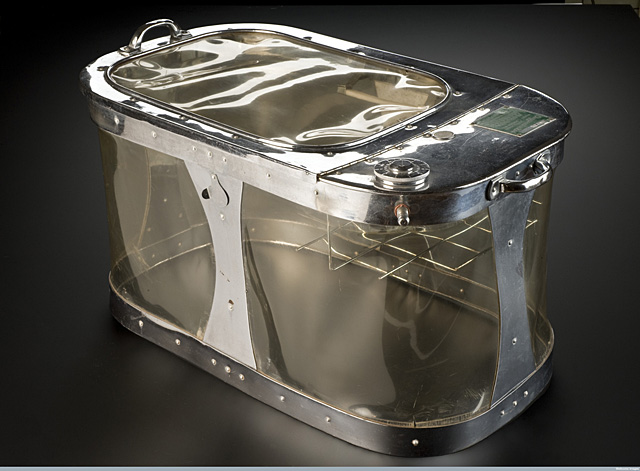 Credit: Science Museum, London, Wellcome Images (L0066450). Copyrighted work made available under Creative Commons.
---
Created 1/22/2018 / Last modified 1/22/2018
Copyright © 2018 Neonatology on the Web / webmaster@neonatology.net