NEONATOLOGY ON THE WEB
---
Dr. Pierre Victor Alfred Auvard (1855-1941)
Dr. Auvard was a French gynecologist and student of Stéphane Tarnier. He published many papers on obstetric care, and was also instrumental in the early evolution of the incubator. (Note: Some sources give his name as Pierre Victor Adolfe Auvard.)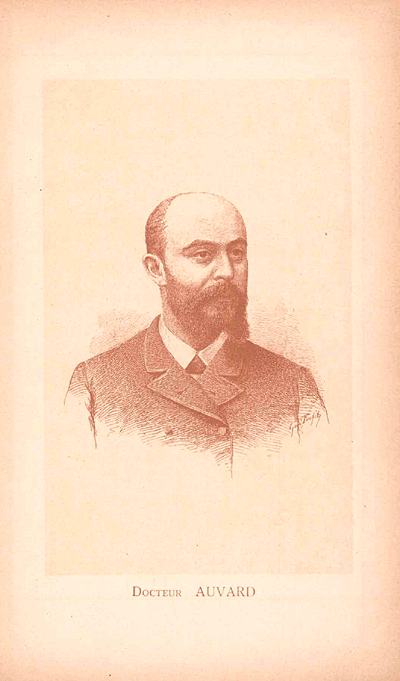 Dr. Pierre Victor Adolf Auvard (1855-1941). Tinted engraved portrait of unknown origin.
Download High Resolution Scan as TIF File (about 5 MB).
"In 1883, Tarnier's student Pierre-Victor Auvard published a report in which he stated that Tarnier's model reduced the infant mortality rate in half. Together with Auvard, Tarnier developed a model in response to the nurses in the maternity wards who had previously had to fill the water reservoir three times a day because they thought the thermosiphon seemed too risky to keep on for the whole day. The Auvard-Tarnier model was also a two-tiered sawdust insulated box, but instead of a tank it was heated with removable clay water bottles. Nurses could replace the water bottles with ease and did not have to frequently re-fill the device. At the time, this model was affordable, which encouraged hospitals to adopt it.
"The Tarnier-Auvard incubator model became increasingly popular device in maternity wards in Paris until the 1890s, and it spread to the US. In 1887, John Bartlett, a physician at the Chicago Policlinic, later renamed as the John H. Stroger, Jr. Hospital, in Chicago, Illinois, replicated Tarniers incubator. Bartlett's incubator differed from Tarnier's original plan only slightly. Incubators designed during the late 1800s were mainly focused on keeping the infant isolated, clean, and warm. The early developers of incubators recognized the need to give premature infants a stable and sterile environment to provide the care they needed to survive." -- "The Infant Incubator in Europe (1860-1890)," The Embryo Project.
---
Biographical Sketch in French
Pierre Victor Alfred Auvard (Wikipedia)
De La Couveuse Pour Enfants, by A. Auvard, 1883. (French)
De La Couveuse Pour Enfants, by A. Auvard, 1883.

Nouvelle Couveuse Pour Enfants, 1889.
---
Created 4/9/2001 / Last modified 7/3/2022
Copyright © 1998-2022 Neonatology on the Web / webmaster@neonatology.net