Woman's Exhibition in Earls Court, London, 1900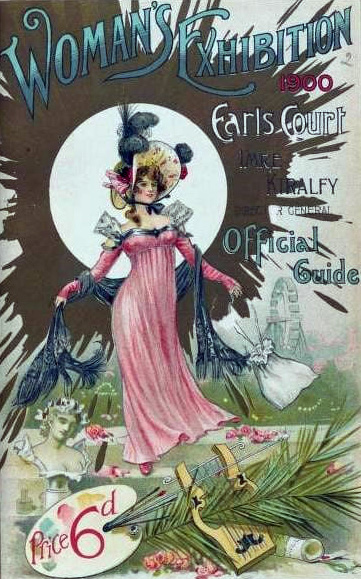 Information about the Woman's Exhibition in Earl's Court in the Summer of1900 is hard to find. Online copies of the Daily Program, Official Guide, and so on are readily available, but little else in the usual places. However, Hope Willard at the University of Lincoln published the following description by Emma Fox, a BA History student.
"For my dissertation, I have been writing about the Woman's Exhibition held in 1900 at Earl's Court. This was one of many commercial exhibitions held by London Exhibitions Ltd under Imre Kiralfy who was known in both Britain and the USA for his spectacles and shows. My dissertation explores the exhibition's representations of women and if and how these appealed to the public.
"The exhibition appears to have been very well-received, which I have determined through the press response. Most articles highlighted the main attraction, the 'Women of All Nations', which showcased women and their 'work' (usually handicrafts) from 24 nations. The domestic focus of the exhibition reflected traditional views on women's work but also, in emphasising the importance of the domestic space, reflected feminist thought of the time. Many feminists at the turn of the twentieth century, took no issue with the notion that women's work was domestic work. They sought to build on this traditional view but change attitudes towards it, emphasising domestic work as respectable, distinct from and as important as men's work…
"Ultimately, the Woman's Exhibition was a commercial event and so the choice to dedicate an exhibition to women is fascinating as it seems it would have been a big risk. However, it was well-received in the press and it has been incredibly interesting to explore the ways that Kiralfy mitigated the risk through appealing to popular imperialism, fun-fair style attractions and sticking to portrayals of women that emphasised their femininity." Source: https://library.blogs.lincoln.ac.uk/2020/03/09/1900-the-womans-exhibition/
Little information about the incubator exhibit itself has survived, and I have not been able to find any photographs as of yet, but we know that Dr. Lion was present with his incubators from the "Entertainments" section of the Daily Program, the Official Guide, and contemporary press (below).