Transport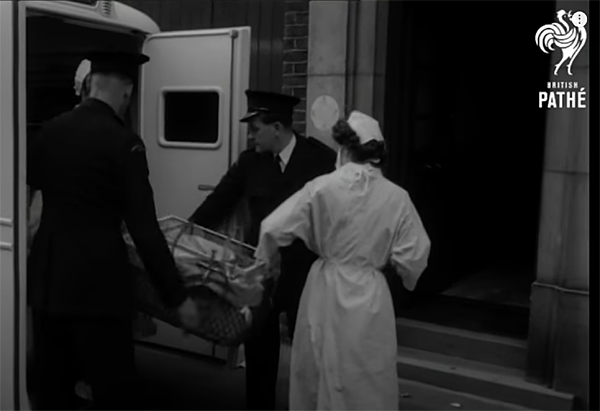 Above: Click the photo to see a Great video of a newborn transport in London in 1950. (YouTube).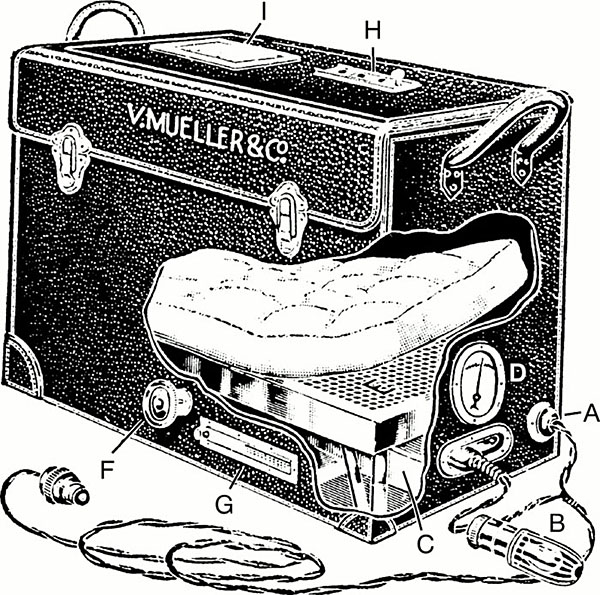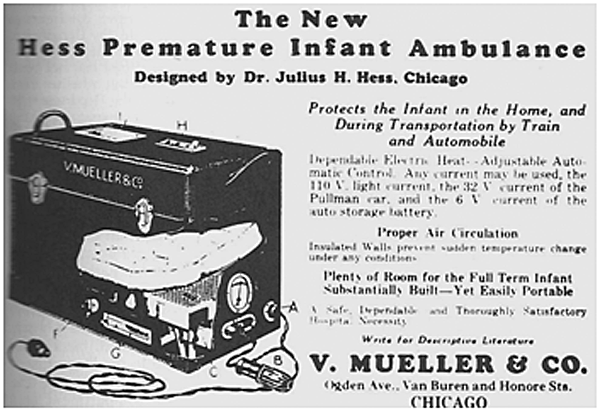 Above: One of the earliest infant transport incubators was invented by Dr. Julius Hess in Chicago in 1922. It was manufactured and advertised widely by V. Mueller and Company.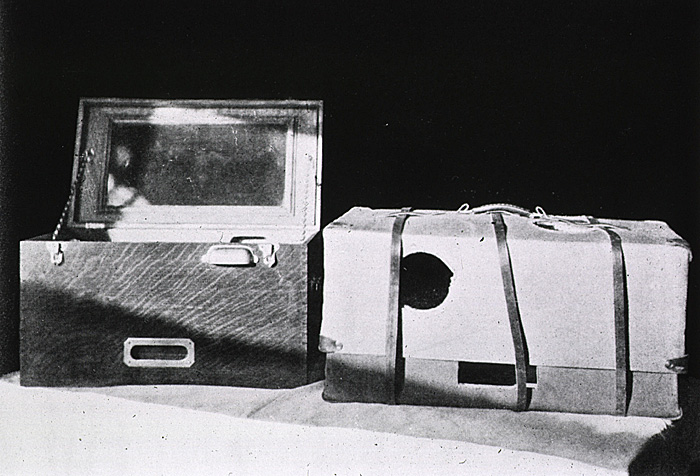 Above: An ambulance incubator and its case. From the 7th annual report of the Chicago Lying-In Hospital. Likely ca. 1924.
Above: Infant transport incubator used at Harlem Hospital in New York ca. 1940. There is an oxygen tank in the lower compartment.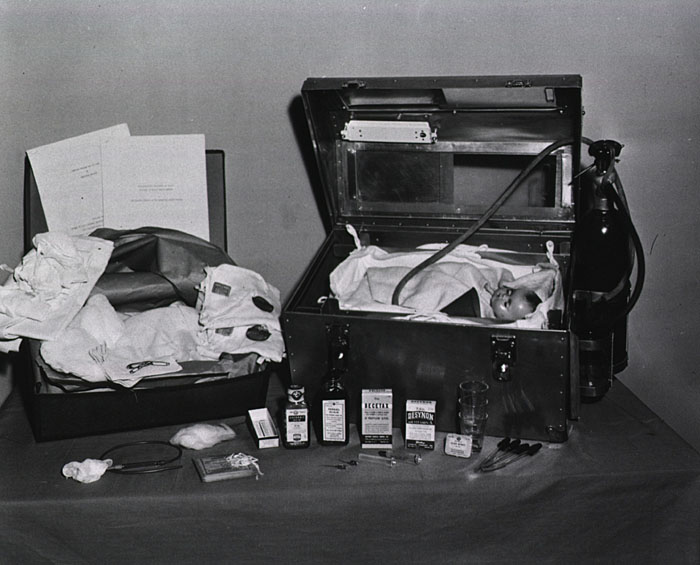 Above: The "Premature Infant Carrier" and medical bag used to transport babies to the Johns Hopkins Premature Infant Unit ca. 1945. Photo from the NLM Digital Collections.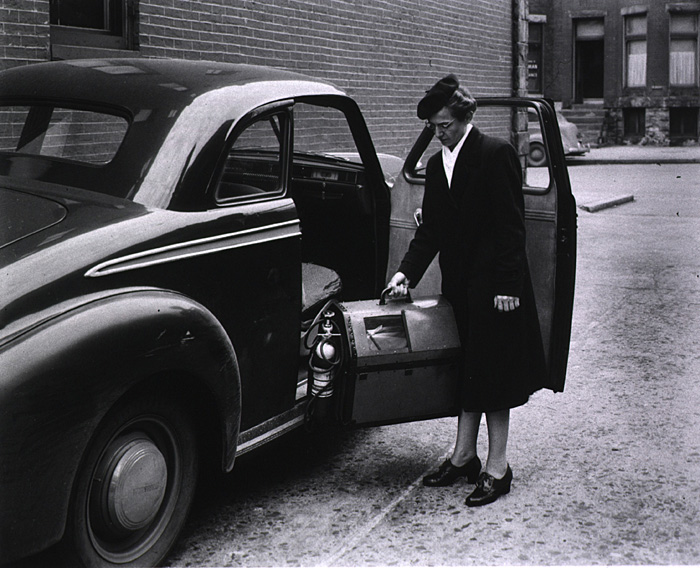 Above: A baby being moved to the hospital in the Hopkins "Premature Infant Carrier" ca. 1945. Photo from the NLM Digital Collections.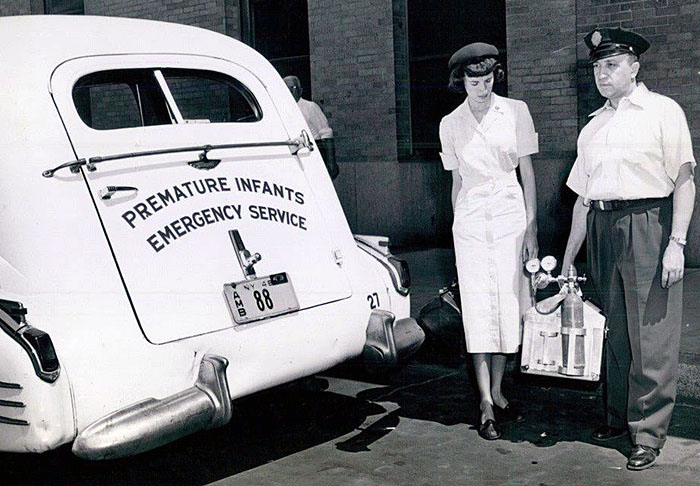 Above: Premature Infant Ambulance with Pragel Incubator, New York City, 1949. Original caption: "New city service boon to premature infants. Hospital statistics report that about eight percent of all babies fall into the category of premature births, and an incubator baby is thirteen times more likely to die than an infant of normal weight. A unique service inaugurated nine months ago by the Department of Hospitals, from Bellevue Hospital, is designed to give these premature infants a better hold on life by means of more and better equipment and specially trained staffs for their care. The premature infants emergency service operates on a 24-hour basis. When an infant under 5 1/2 pounds is born in a small hospital, a call to the service brings the special emergency ambulance and a public health nurse with a portable incubator. At the scene the baby is transferred by the nurse to the portable incubator and the ambulance speeds it to a larger hospital equipped to give it incubator care. At left, the ambulance waits for public health nurse Mary Mane Conlon, carrying the ambulance bag, and driver Louis Masiello carrying the portable incubator." Credit: International News Photo, photographer H. J. Reinhart, 8/1/1949.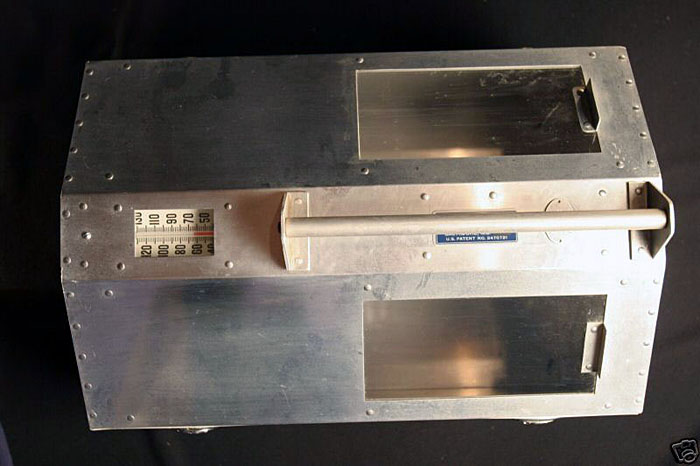 Above: Closeup of Pragel Newborn Transport Incubator patented in 1949.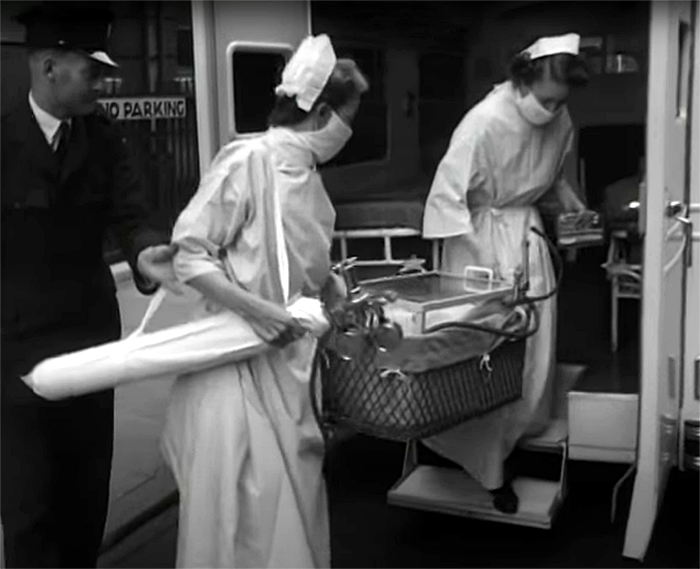 Above: Newborn ambulance transport, London 1950.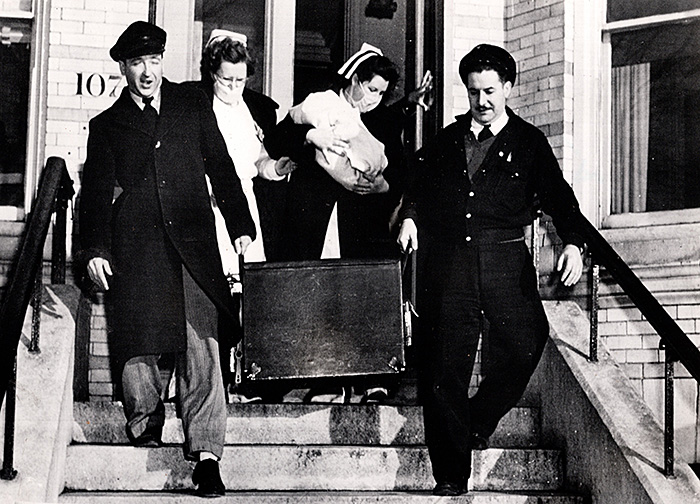 Above: Quadruplets being transported from Audubon Hospital to Boston Children's Hospital in 1951. Photo from ACME/NEA.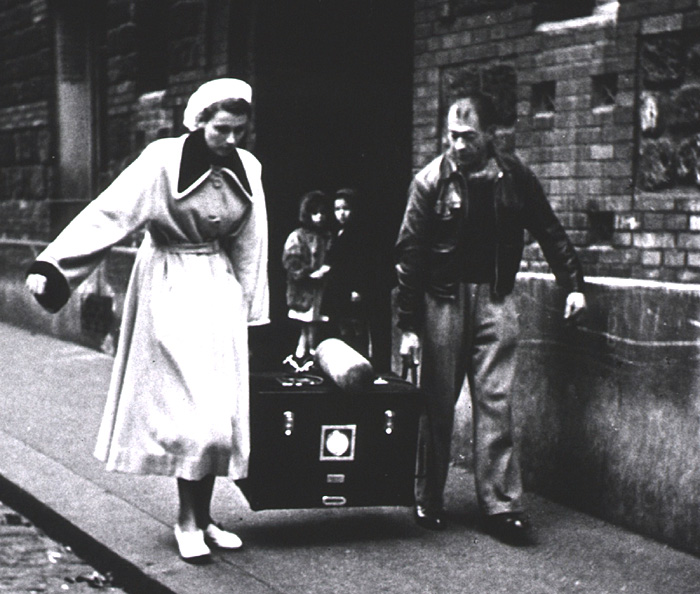 Above: A premature baby being transported to the "Ecole de Fuericulture" in Paris during the 1950's. Photo from the NLM Digital Collections.
Above: Ambulance transport of a newborn in Australia, 1950s.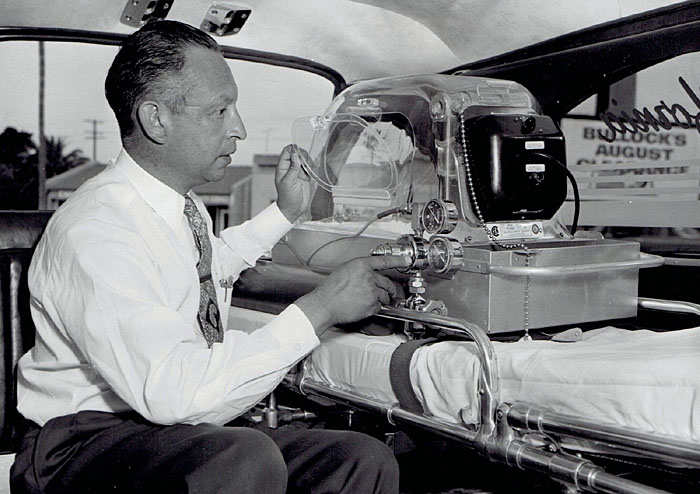 Above: Santa Monica (California) Ambulance Incubator ca. 1954. Photo by World Wide Photo.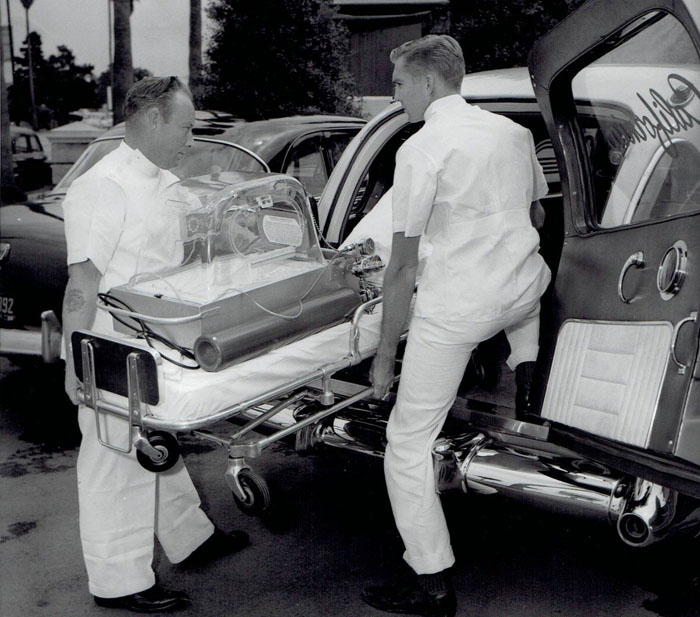 Above: Transport incubator being placed in ambulance in Santa Monica, California, ca. 1954. Photo by World Wide Photo.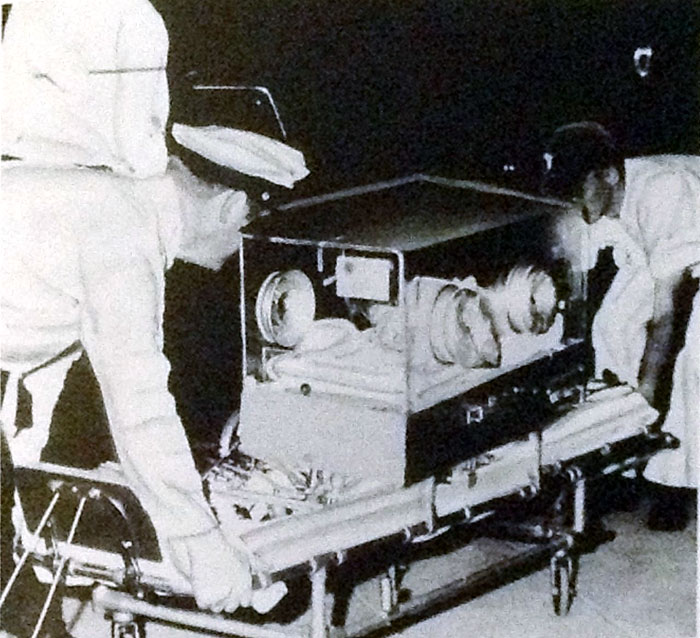 Above: Patrick Kennedy, son of President John F. Kennedy and Jackie Kennedy, is transported to Boston Children's Hospital on August 7, 1963. The baby was born by C/S at 34.5 weeks and expired due to RDS on August 9.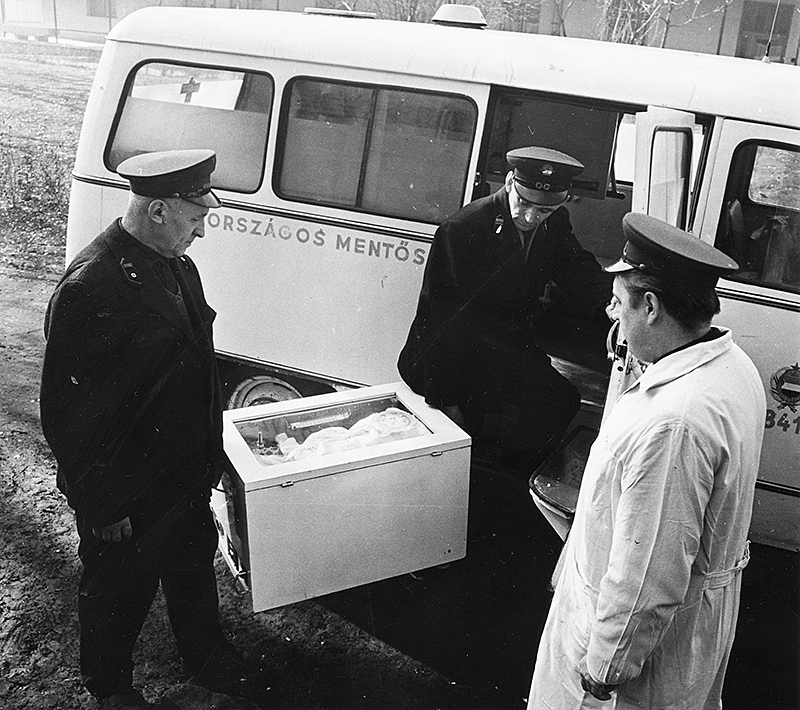 Above: Infant transport in Hungary, 1968. Source: www.fortepan.hu.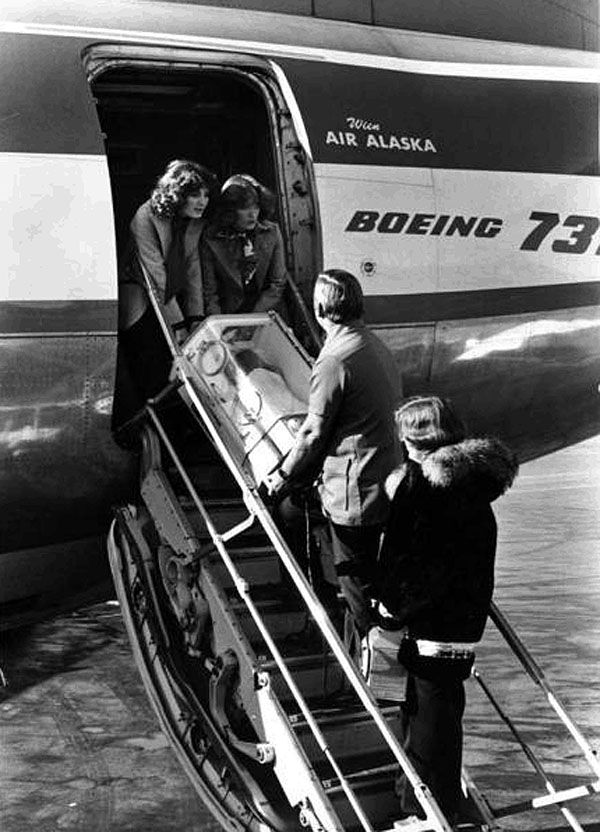 Above: Newborn transport on Air Wien Alaska. Date of photo uncertain, but probably in mid-1970's based on equipment and aircraft. Wien Air Alaska started using Boeing 737's in 1967. The airline was acquired and then liquidated in 1984. Before Wien Air folded in 1985, they were known as the second oldest airline in the United States. Photo from Alaska's Digital Archives.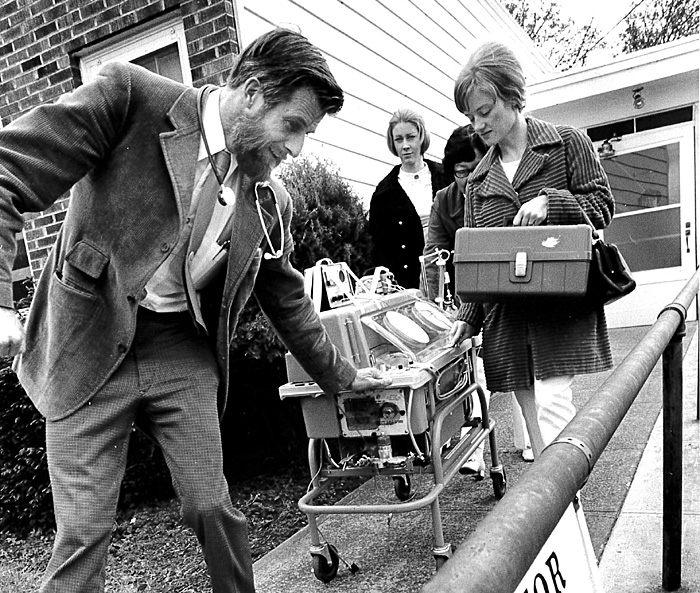 Baby being transported from Silverton Hospital to the University of Oregon hospital in 1972. Photo from The Oregonian.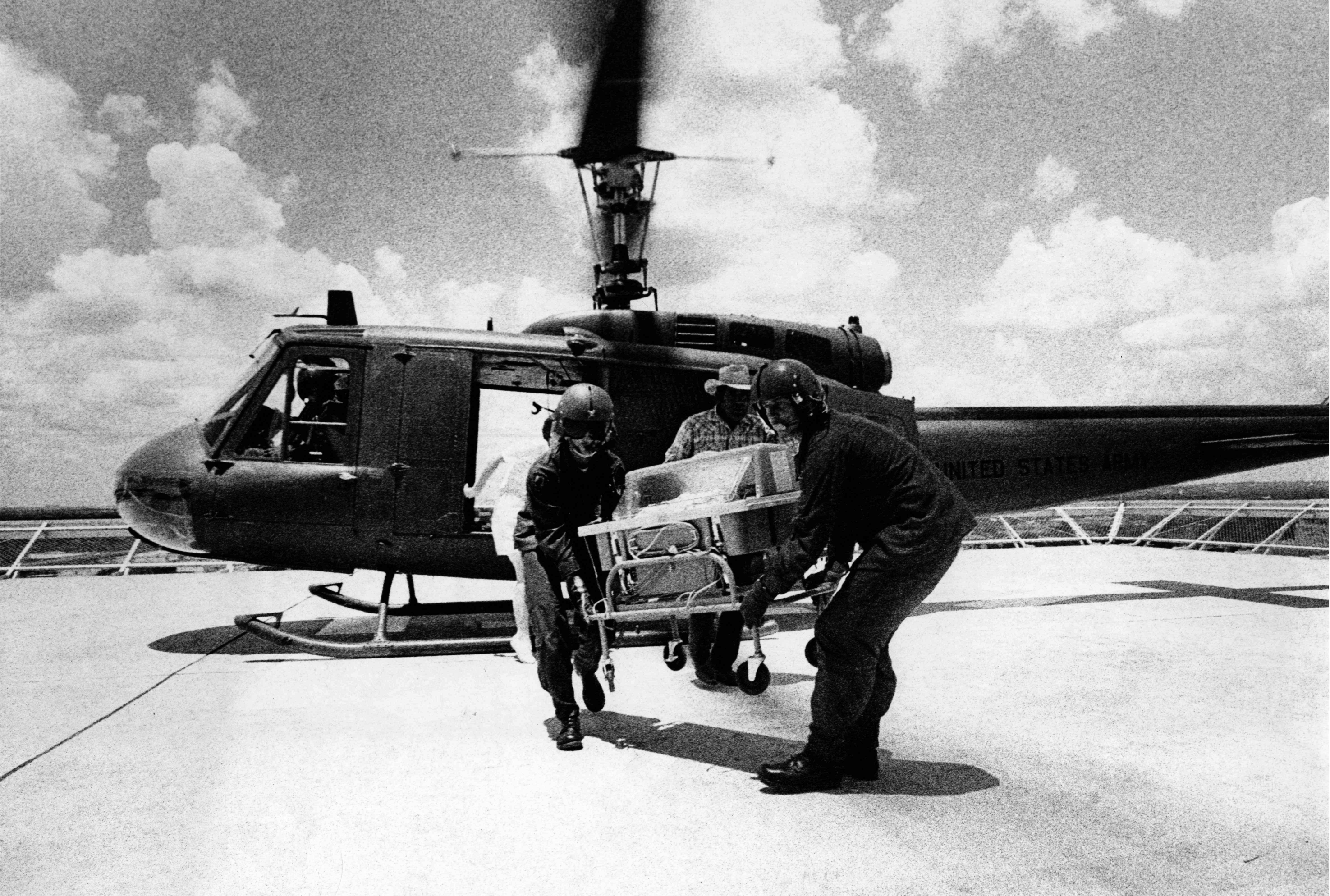 MAST Team (Military Assistance to Safety and Traffic) transporting an newborn to a medical center for a blood transfusion. Location and date not given, but probably early 1970s in Texas or Washington (sites of early MAST teams).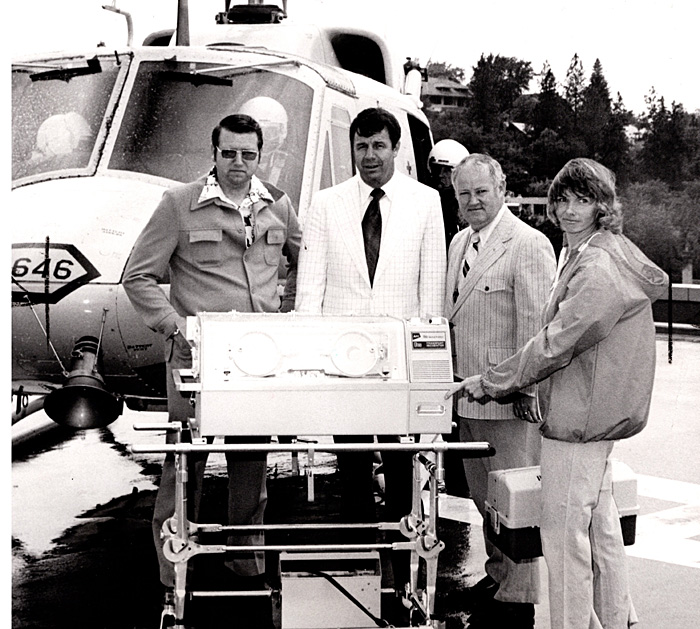 Above: Transport incubator and helicopter at Deaconess Hospital in Spokane, Washington, 1975.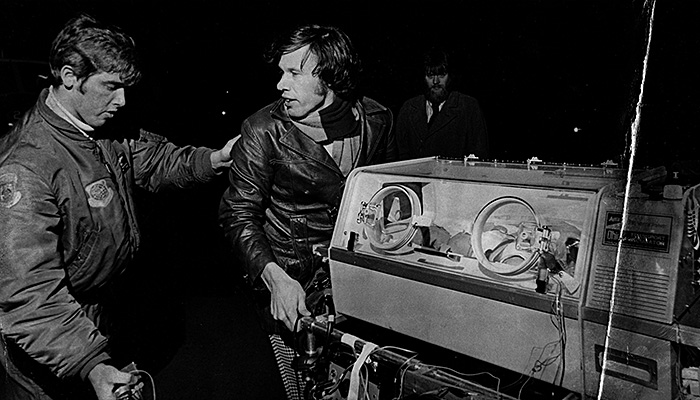 Above: 2 day old is transported by helicopter and ambulance from Eugene to the University of Oregon in Portland for a congenital heart problem in 1975.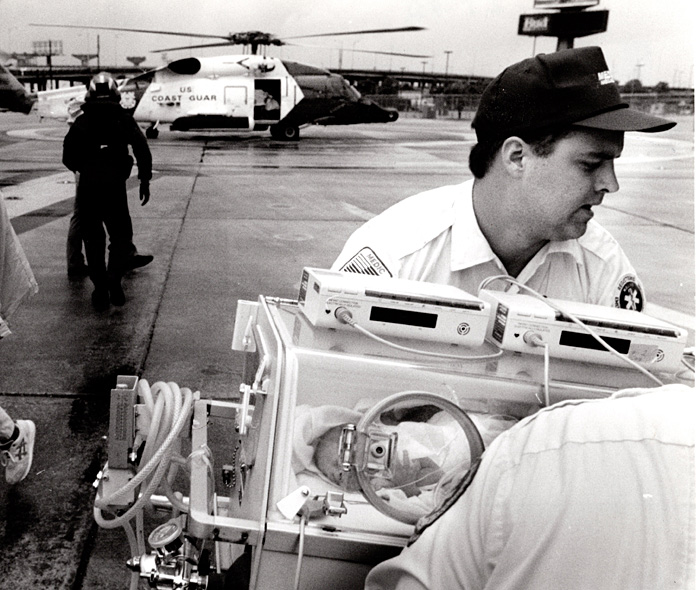 Above: Babies are evacuated from Houma Hospital by helicopter after a power failure caused by Hurrican Andrew in 1992.
---
Modern infant transport incubators, of which there are many brands, are essentially small mobile ICUs. They are battery powered, with an option to plug into wall sockets when one is available in the field, and typically have built-in servo-controlled thermal environment management, oxygen supply, infusion pumps, cardiovascular monitors, and even ventilators. They are on collapsible stands with wheels with hold-down points that allow them to be loaded into ambulances, helicopters, or aircraft and secured in place.