Maria Delivoria-Papadopoulos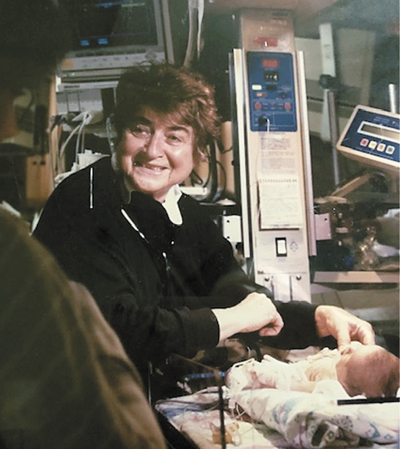 Dr. Maria Delivoria-Papadopoulos was born in Greece and received her undergraduate training at the Sorbonne University. Her subsequent education, internship, residency, and fellowship training took her across the world – first at the Athens University School of Medicine, then the St. Francis and County Hospitals at the University of Kansas, Jewish Hospital of Brookleyn, Kings County Hospital, University of Colorado Medical Center, and the Hospital for Sick Children in Toronto. She was recruited to the University of Pennsylvania School of Medicine in 1967, where she was rapidly promoted to Professor and remained on the faculty for the remainder of her career.
Marie was revered neonatologist, physiologist, and scientist who has often been referred to as the "mother of neonatology." Her early research on oxygen delivery in the newborn and mechanisms of hypoxic brain injury was fundamental to the field of neonatology, but it was her groundbreaking work on assisted ventilation for hyaline membrane disease in 1962 and a presentation about it at the Society for Pediatric Research in 1963 that jet-propelled her distinguished academic career and pivoted neonatology to an interventionist approach to premature infants.(1)
In addition to her fame as a physiologist and scientist, her skills as a diagnostician and teacher were legendary. She built the fellowship in Neonatal-Perinatal Medicine at the University of Pennsylvania and made "Meet the Baby" rounds in the NICU on a regular basis. She received many awards in her fields both in the US and internationally, including the AAP Lifetime Achievement Award and Virginia Apgar Award, and was inducted into the Neonatology Hall of Fame as a Legend in Neonatology. She was famed for her humanism, teaching skills, and love of babies, and strongly influenced hundreds if not thousands of residents and fellows over the course of her career.
Dr. Delivoria-Papadopoulos passed away on September 11, 2020 at the age of 89. John Zupancic, an associate professor of pediatrics at Harvard Medical School and associate chief of neonatology at Beth Israel Deaconess Medical Center, wrote that Dr. Delivoria-Papadopoulos was "an extraordinary woman whose pioneering contributions, including the demonstration of the feasibility of neonatal mechanical ventilation, changed the lives of countless newborns."
(1) "Assisted Ventilation in Terminal Hyaline Membrane Disease," Archives of Disease in Childhood, 1964.
---
"In Memoriam" in AAP News
Obituary in Neonatology Fetal and Neonatal Research (Karger)
Obituary in the Journal of Maternal-Fetal and Neonatal Medicine