Mildred T. (Millie) Stahlman (1922-)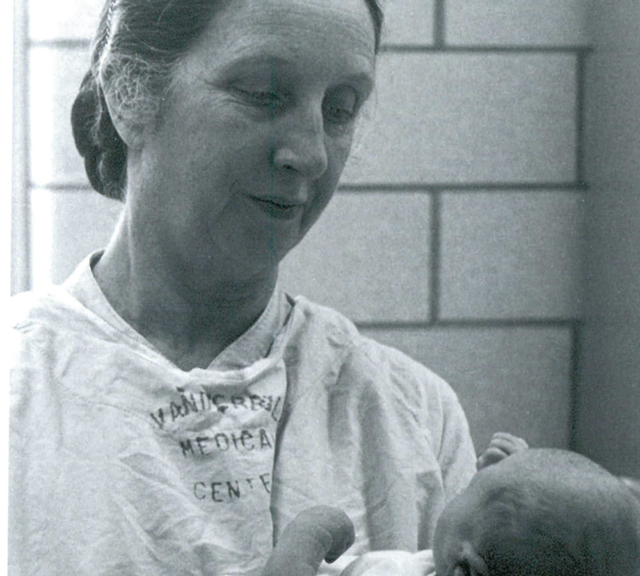 Mildred T. Stahlman was born on July 31, 1922 in Nashville, Tennesse. She graduated from the Vanderbilt College of Arts and Science in 1943, then obtained her medical degree from Vanderbilt in 1946. She did a general internship at Lakeside Hospital in Cleveland and a pediatric internship at Boston Children's, followed by an assistant residency in pediatrics at Vanderbilt, an exchange fellowship at the Royal Caroline Institute in Stockholm, and a cardiac residency at La Rabida Sanitarium in Chicago. She joined the faculty at Vanderbilt in 1951 and has stayed there for the rest of her career.
Her initial research was in pediatric cardiology, but became interested in the care of premature babies, and she founded the modern neonatal intensive care unit at Vanderbilt in 1959 and helped initiate the regionalization of high-risk newborn care in Tennessee in 1973. She also started the Vanderbilt neonatology fellowship training program. Dr. Stahlman was first in North America to use assisted ventilation successfully for a baby with hyaline membrane disease in 1961.(1) (The baby survived and became a NICU nurse at Vanderbilt!) Dr. Stahlman Later, she published her experience with the ventilation of 80 infants with RDS in the February 1970 issue of Journal of Pediatrics.(4)
Although Yale is often cited as having been the site of the first modern NICU under the leadership of Dr. Gluck, references forwarded by Dr. John Reese make it clear that Dr. Stahlman operated one of the first, if not the first, modern NICUs as we think of them today. In a short communication at the May 8-10, 1962 meeting of the SPR, she described taking care of four newborns with hyaline membrane disease (RDS) with negative and positive pressure ventilation, with two surviving. The care included left atrial pressure monitoring using a venous umbilical catheter, blood gases, esophageal pressure monitoring using a saline-filled catheter in the esophagus, and EKG and temperature monitoring. Quite remarkable, given the technology available at that time.
Dr. Stahlman is an author on over 100 peer-reviewed articles on neonatal care. She has also published several papers on ethical and moral issues related to care of premature infants.(2,3) She was elected to the Institute of Medicine and was President of the American Pediatric Society (1984). She received the AAP's Virginia Apgar Award in 1987 and the American Pediatric Society's John Howland Award in 1996. One of the true pioneers and most revered figures in the field of neonatology, Dr. Stahlman has continued to work as a Professor of Pediatrics and Pathology at Vanderbilt University into her 90s.
---
(1) Stahlman MT, Young WC, Payne G. Studies of ventilatory aids in hyaline membrane disease. Am J Dis Child 1962;104:526.
(2) Stahlman, M.T. (1984). "Newborn intensive care: Success or failure?". The Journal of Pediatrics. 105 (1): 162–167. doi:10.1016/S0022-3476(84)80386-8. PMID 6737135.
(3) Stahlman MT (Mar 1979). "Ethical dilemmas in perinatal medicine". Journal of Pediatrics. 94 (3): 516–520. doi:10.1016/s0022-3476(79)80640-x. PMID 423058.
(4) Stahlman, MT et al, "Negative pressure assisted ventilation in infants with hyaline membrane disease," Journal of Pediatrics 76(20:174-182, February, 1970.
---