Philip Sunshine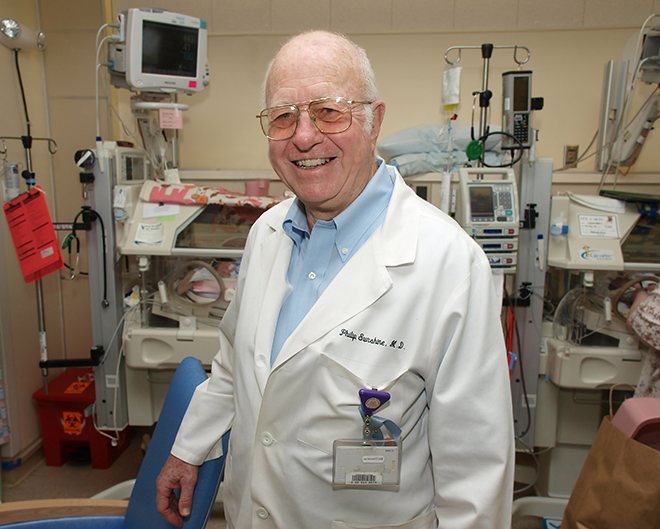 Philip Sunshine, MD, one of the founding fathers of modern neonatology, was born in Denver to pharmacist parents who had immigrated from Poland and Russia. He attended the University of Colorado as an undergraduate and then attended the University of Colorado School of Medicine, graduating in 1955. He did his internship at Sinai Hospital in Baltimore, then began his pediatric residency at Stanford in 1956, before neonatology as we know it today existed. Later, he took additional training in metabolism and gastroenterology.
Although most of Sunshine's career was spent at Stanford, he also spent four years at Children's Hospital of Los Angeles as the vice chairman of Pediatrics from 1989 to 1993. Throughout his career, he made many contributions to the field, including the diagnosis and treatment of metabolic disorders, pulmonary physiology, refinement of ventilator support for premature infants, and the areas of infant nutrition, special formulas, and intravenous nutrition (TPN).
Sunshine published widely and was an original editor of Fetal and Neonatal Brain Injury, a classic text book in the field that is now in its fifth edition. At various times he has served on the editorial boards of Gastroenterology, Neonatology-Perinatology, Journal of Perinatology, Journal of Pediatric Gastroenterology and Nutrition, and American Journal of Clinical Nutrition. He received the Ross Award in Research in 19790, the Joseph W. St. Geme award in 1997, the Awardee of the Year from the California Perinatal Association in 1988, Virginia Apgar Award from the AAP in 2001, and the Legends of Neonatology award in 2015.
Sunshine transitioned to emeritus professor of pediatrics in 2021 at the age of 91, but continued to work as an attending in the intermediate nursery at Lucile Packard Children's Hospital at Stanford until 2022.
---