Julius Hays Hess, 1876-1955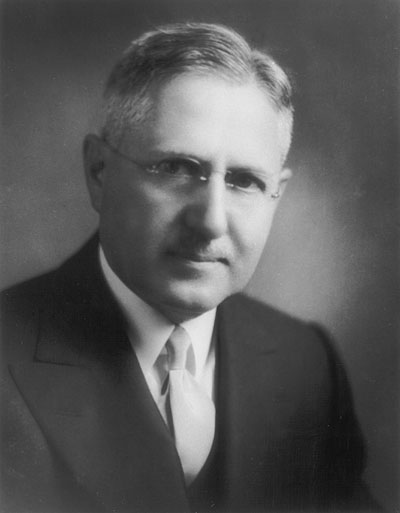 Julius Hays Hess was a Chicago pediatrician who made innovative contributions to medical research and hospital technology. He is considered the father of American neonatology.
Hess was born on 2 January 1876 in Ottawa, Illinois. He received his M.D. from Northwestern University in 1899, interning first at the Alexian Brothers Hospital in Chicago, and then pursuing postgraduate study at Johns Hopkins University. He also studied at clinics in Germany and Austria. In 1906 he began a pediatric practice at Michael Reese Hospital in Chicago, and in 1916 he became a full professor at the University of Illinois College of Medicine and chief of staff at Cook County Community Hospital. He held these positions until his retirement in 1944, interrupted only by his service in the U.S. Army during 1917.
Hess was an American pioneer in the care of premature babies. His book on Premature and Congenitally Diseased Infants (1922) was the first of its kind published in the United States. In 1914 he designed a heated bed for infants, influenced by European incubator models, which used an electric-heated water jacket to maintain temperature. He followed this with a transport incubator or "infant ambulance" in 1922, and by 1934 he had expanded upon the design to allow for the provision of oxygen.
The Premature Infant Station that Hess established with registered nurse Evelyn Lundeen at Sarah Morris (Michael Reese) Hospital became a model for premature care throughout the United States and England. He and Lundeen co-authored The Premature Infant: Its Medical and Nursing Care in 1941. Their Infant Station at Sarah Morris Hospital was particularly successful at preventing hemorrhages and treating congenital syphilis, and long-term studies indicated that eighty-five percent of infants treated there survived with good health and normal development. Hess was also involved in drawing up city- and state-wide plans for the consistent care of premature newborns.
Hess was active in the medical community as a member of the American Medical Association, the American College of Physicians, and the Central States Pediatrics Society. He published widely in medical journals. He served as president of the Illinois Medical Society between 1934 and 1935. During the early 1950s he was involved with the medical advisory board for the National Foundation on Infantile Paralysis and their "March of Dimes" fundraiser for the treatment of polio. Hess was also a member of the Jewish Children's Bureau. In 1952 the American Academy of Pediatrics presented him with their Borden Award for his contributions to the field.
Hess married Clara Merrifield in 1902. They had two daughters, Jean and Carol, with whom he remained close until his death in 1955. He was remembered by his patients as kind, and by his colleagues as an excellent and energetic teacher.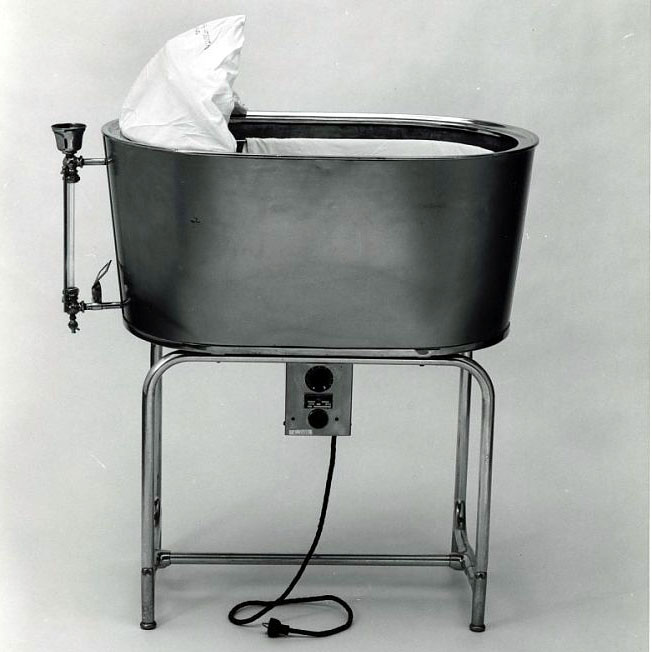 Above: Dr. Julius Hess's incubator, Chicago, Illinois, in use at the Premature Infant Station at Sarah Morris Hospital ca. 1915.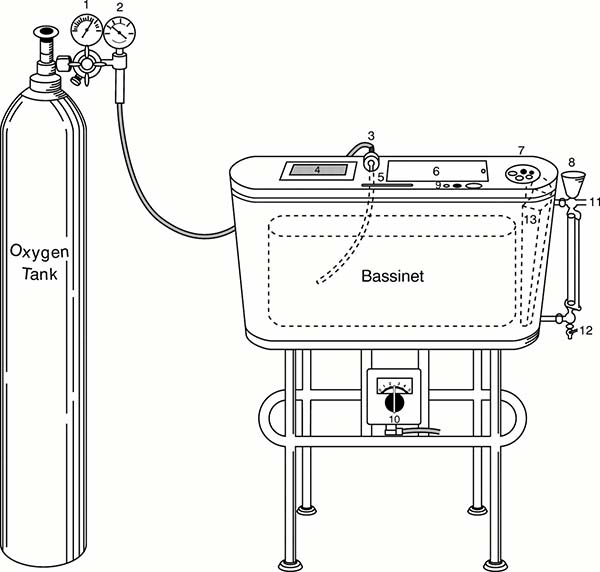 Above: In 1934, Julius Hess's incubator, originally an open bed, was converted into a chamber for the provision of oxygen. The standard at that time was 40% oxygen.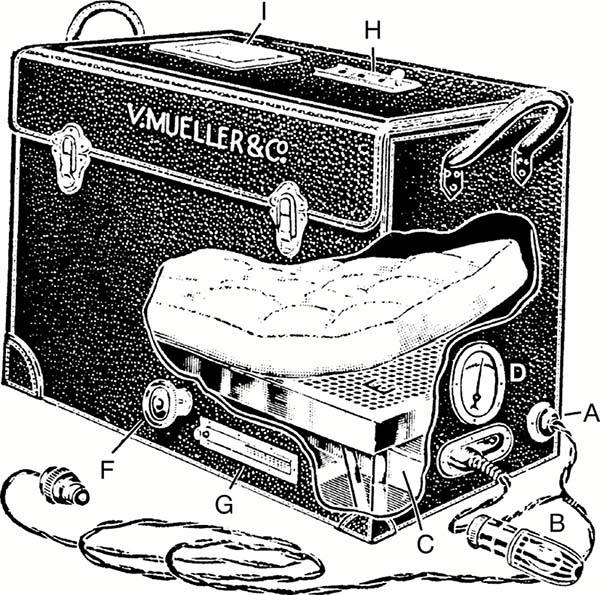 Above; The Hess Transport Incubator ca. 1922.
Above: This Hess incubator was originally used at the Sarah Morris Children's Hospital in Chicago (across the street from the Michael Reese Hospital) ca. 1915. The incubator is owned by the International Museum of Surgical Science in Chicago, and was temporarily on exhibit at the Spertus Museum, 618 Michigan Avenue, Chicago, Illinois. See Dr. Hess's original 1915 JAMA article (linked below) for a detailed description of the incubator. Photographs courtesy of Dr. Tonse Raju.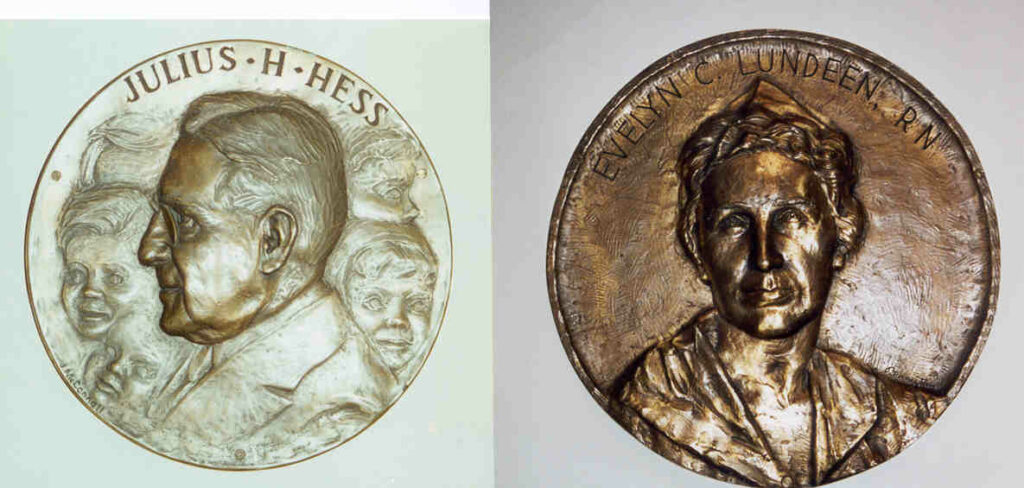 These medallions of Dr. Julius Hess and Evelyn Lundeen are on exhibit outside the Neonatal ICU of the Michael Reese Hospital, Chicago. Photograph courtesy of Dr. Tonse Raju.
Career milestones:
Pediatrician. M.D., Northwestern University, 1899.
Intern, Alexian Brothers Hospital, Chicago, 1899-1900.
Post-graduate work, Johns Hopkins University, 1900.
Clinical study, Germany and Austria, 1900-1901, 1910, 1913, 1927.
Pediatrician, Michael Reese Hospital, 1906-1944.
Instructor in pediatrics, Northwestern University, 1908-1913.
Associate Professor, University of Illinois College of Medicine, 1913-1916
Professor and Head of the Department of Pediatrics, 1916-1944
President, Chicago Medical Society, 1934-1935.
Biography source: University of Chicago Library, "Guide to the Julius Hays Hess Papers 1843-1958"
---