Pierre Constant Budin (1846-1907)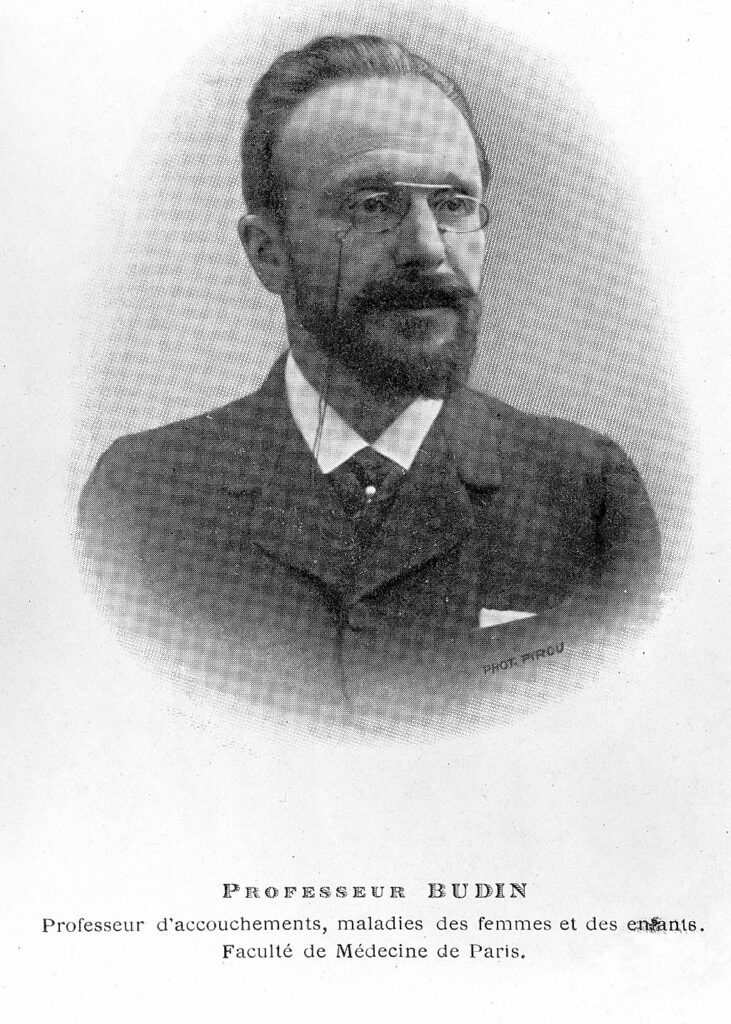 Pierre Constant Budin was the son of farmers, born in 1946 at Enancourt-le-sec, en Vexin, a small village in the northwest part of France. He attended the Lycee Napoleon and obtained a degree in philosophy in 1867, then started medical school in Paris in 1867. He became a resident in 1872, spending part of his first year at the Maternité, studied abroad in 1874, and returned to the Maternité in 1875 as a fourth-year resident and worked under the supervision of Stéphane Tarnier. He received his medical degree in 1876.
Budin was named Chief de Clinique of Pr. Depaul in 1878 and promoted to associate professor in 1880. In 1882, he became Obstetrician in Chief of the Hospital de la Charité, where he modernized the teaching of obstetrics. Concerned by the very high infant mortality rate, he founded the first clinic for "nurslings" in 1892. In 1895, Budin succeeded Professor Tarnier and became Chairman of Obstetrics at the Maternité de Paris in Port Royal, where he developed the first specialized infant care center, the pavilion for "weaklings." In 1898, he became chief of the Tarnier Maternité located at rue d'Assas, next to the Luxembourg Gardens.
Budin became a member of the French Academy of Medicine in 1889, and belonged to numerous societies: Society of Biology, Anatomical Society, Society of Public Medicine and Hygiene, Society of Legal Medicine and the Obstetrical French Society which he founded in 1898. Very well known in France and in neighboring countries, he was an honorary member of the London Obstetrical Society, the Edinburgh Obstetrical Society
and Boston Obstetrical Society. He was also a member of the Italian, Spanish and German obstetrical societies. He was one of the founders of the Progres Medical. He founded the Journal L'Obstetrique and, in addition, was the corresponding editor for France of the American Journal of Obstetrics and Gynecology. He was also an officer of the Legion of Honor (a very high distinction in France).
Budin understood the importance of data gathering and analysis, and used the data to focus his efforts on the root causes of infant mortality. He published extensively, and enriched both obstetrics and pediatrics with numerous clinical and experimental works; some of his papers are still considered classics in their field. His book Le Nourrisson ("The Nursling") published in 1900, can be thought of as the earliest textbook of neonatology, and emphasized many core concepts that were ahead of their time: use of breast milk, temperature control, gavage, and prevention of infection, among others. An English translation of the work appeared in 1907. A partial bibliography of his publications can be found below.
While he was a resident, Budin married Marie-Therese Sasles, an English teacher, in 1893, after a 5 year engagement. He was 47, she was 23. They were very devoted to each other, as evidenced by their letters. Both enjoyed society life, theatre, and music, and they were acquainted with many authors, politicians, actors, and other notable personages of the time. They lived in Paris throughout their marriage, and had no children.
In 1907, Budin became ill with pneumonia while attending a conference in Marseille, passing away on January 22, 1907 in a hotel room in Marseille. Marie-Therese Budin, his wife of 14 years, continued his work, and the Foundation Pierre Budin was created (it later became the "Ecole de Puericulture"). A model infant clinic was opened to the public on May 24, 1909 by Emile Loubet (ex-president of France). On March 5, 1923, Marie-Therese Budin received the high honor of distinction of the Legion d'Honneur.
The above biographical sketch was summarized from Dr. Paul Tobas's detailed biography of Dr. Budin, which is linked below.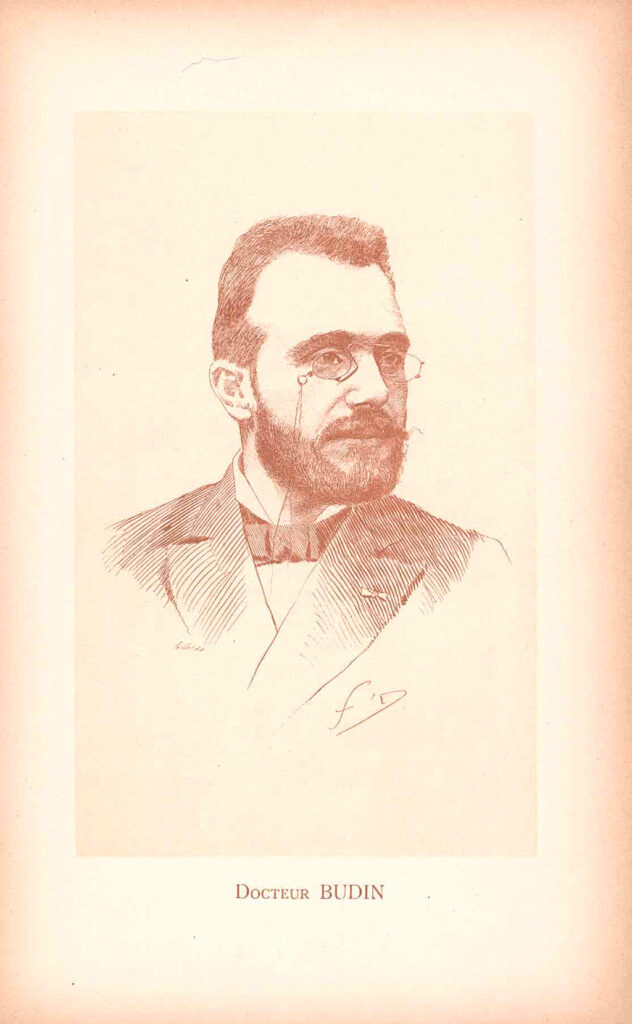 Above: Tinted portrait of Budin, origin unknown .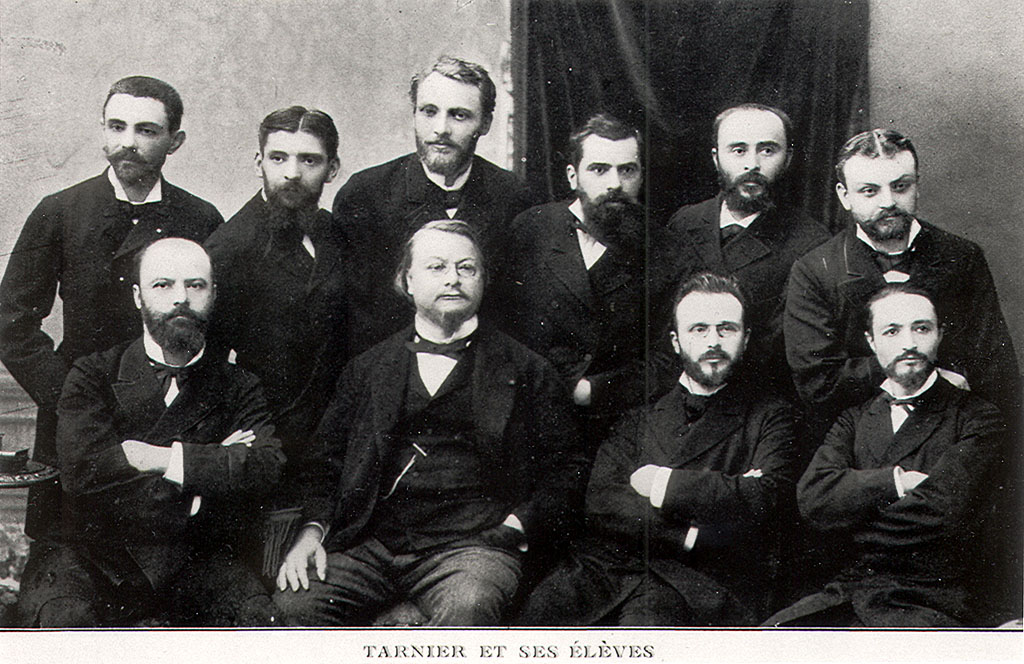 Above: Tarnier and his students and colleagues, including Budin. Back row, left to right: Auvard, Tarnier, Ribemont-Dessaignes, Bar, Maygrier, Pinard. Front row, left to right: Berthaut, Champetier de Ribes, Budin, Olivier.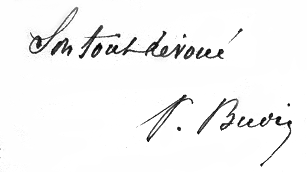 Above: Pierre Budin's autograph from a copy of his 1878 monograph "Des Lesions Traumatiques chez la Femme dans les Accouchements Artificiels."
---
BUDIN, P. : Ligature du Cordon Ombilical, Progres Medical, Paris
BUDIN, P. : De la Tete du Foetus au point de vue de l'Obstetrique (Doctorate Thesis
1876)
BUDIN, P. : La Ville de Paris et la Mortalite Infantile . Paris, Masson, 1904, 40 p., 17 fig.
BUDIN P. : La mortalite Infantile dans les Bouches du Rhone. Obstetrique 1907; 304-45.
BUDIN, P. : Les Consultations de Nourrissons, Arch gen de Med., Paris 1905, 1, 1234
-1257
BUDIN, P. : Les Consultations de Nourrissons, Ann. de Med. et Chir. inf., Paris, 1905,
618 – 645
BUDIN, P. : Des Consultations de Nourrissons, leurs resultats, V.1 Ibid 11 289 -305
Bull. Acad. de Med. Paris. 1906.
BUDIN, P. : Allaitement et Hygiene du Nourrisson. L'obstetrique, Janvier, 1906.
BUDIN , P. : Le Nourrisson: alimentation et Hygiene. Enfants debiles et enfants nes a
terme. 1900. Doin Ed. Paris.
BUDIN, P. : L'Allaitement Paris. Lecrosnier er Babe, 1892, 23 p, 10 fig.
BUDIN , P. : The Nursling . London. Caxton Publishing Co.,1907.
---
Le Nourrisson, Paris, 1900 [French]
The Nursling, English translation of 1907
Dr. Stéphane Tarnier (teacher and mentor of Dr. Budin)
Budin Biography from Dr. Paul Toubas' web site, captured as PDF
French Articles on Early Neonatal Care, captured as PDF (French)
Les Consultations de Nourrisons, P. Budin, 1905
Pierre Constant Budin, from The Embryo Project
Décès de M. P. Budin [The Death of Professor Budin], by A. Gautier, 1907 (French)
Pierre Budin and His Work, Maternal and Child Welfare, London, 1918.
"Professor Pierre Budin (1846-1907) of Paris, and modern perinatal care," by Peter M. Dunn, Archives of Disease in Childhood: Fetal & Neonatal Edition. 73(3):F193-5, 1995 Nov.