The Lion Incubator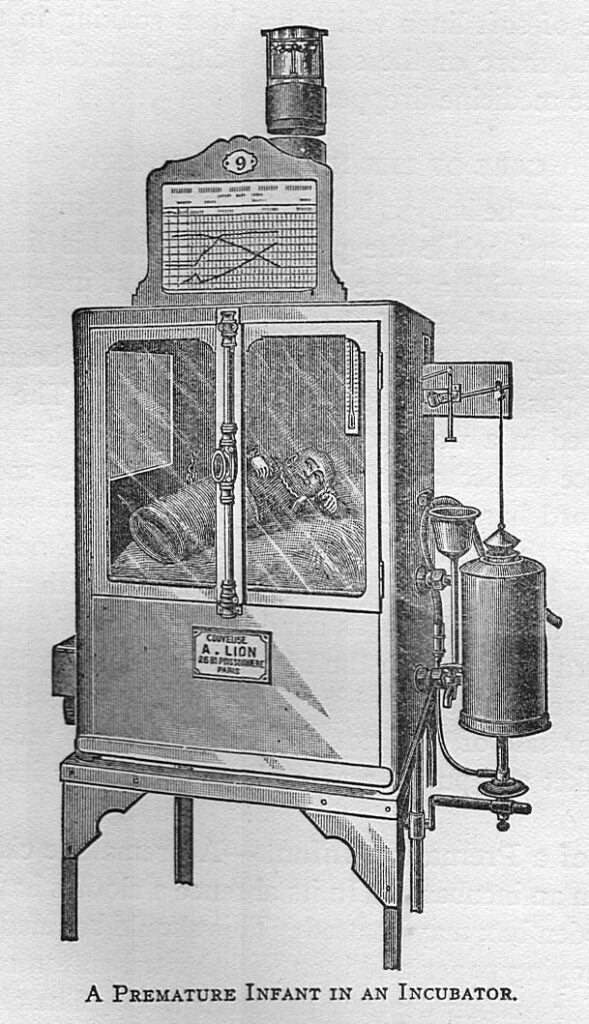 "Dr. Alexandre Lion's incubator was patented in 1889. He was a physician in Nice, France, whose father was an inventor. Similar to the cost-driven motivation that permeates today's medical practices, the overriding attraction of this incubator was the reduced attention needed to operate it. With fewer trained personnel needed, cost was reduced. The Lion incubator was a high point in technology at the end of the 19th century. An automatically regulated heating system was housed in an attractive cabinet. The incubator pulled outside air into its system, adding ventilation to the traditional function of warming. A commentary in Lancet (1897) pointed out that "the main feature of this new incubator is the fact that it requires no constant and skilled care. It works automatically; both ventilation and heat are maintained without any fluctuations whatsoever . . . the only attendance necessary is that needed for feeding and washing the infants." The Lion incubator was expensive, which limited its availability. Charities and municipal government were early sources of support. Because Lion was probably as much an entrepreneur as a physician, he improvised revenue-producing "incubator charities," storefront facilities usually located on busy boulevards throughout France. He charged spectator admission, and he advertised his product widely. He did, however, receive professional endorsement from a study by the physician-general of the City of Nice in which a 72% survival rate among 185 infants was reported."– From "An Encapsulated History of Thermoregulation in the Neonate," by Sheldon B. Kornoes, MD, NeoReviews, Volume 5, No. 3, March 2004.
Lion's establishments were known as "Oeuvre Maternelle des Couveuses D'Enfants," and branches are known to have existed in Paris, Marseille, Bordeaux, Lyon, Nice, Liege, Brussels, and New York City. There may have been others.
The image below is a cutaway view of the Lion Incubator, from a Lion exhibit sourvenir booklet at the 1898 Torino Italian General Exhibition. (PDF of booklet supplied by Drs. Thijs Gras, Amsterdam)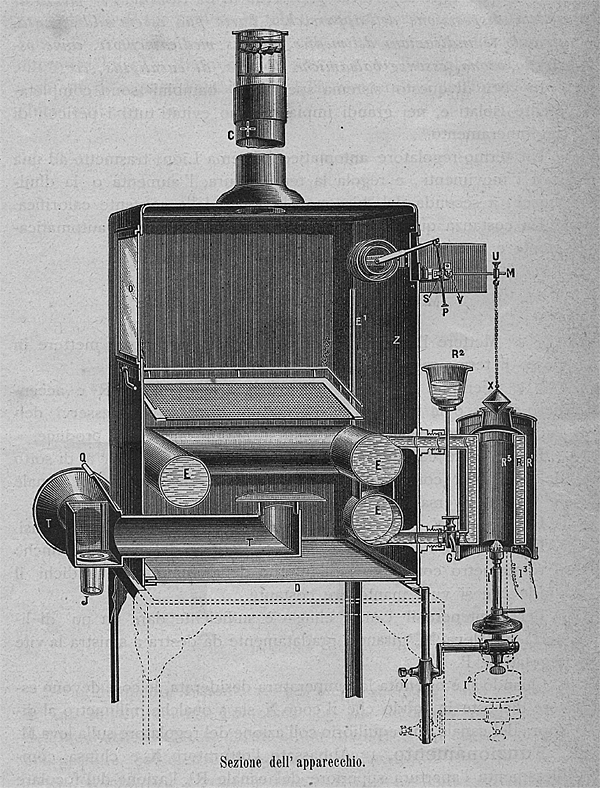 The nameplate below is on a surviving Lion Incubator in the Milk Station Museum in Lisbon, Portugal (museudolactario.fasl.org.pt). Image supplied by Drs. Thijs Gras, Amsterdam.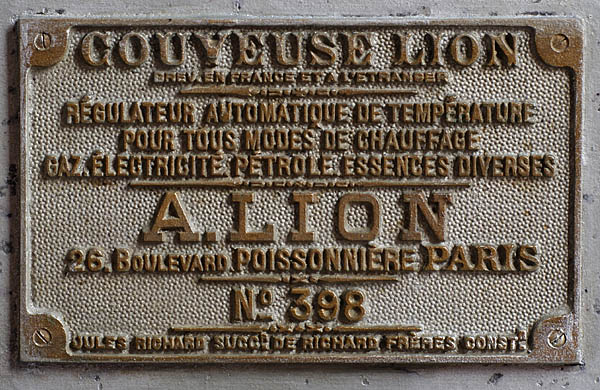 The engraving below is the earliest image I have found. It was the work of Victor Rose and appeared in the Le Monde article of November 10, 1894 about Lion's exhibit at the Lyon Exposition of 1894. It was reused in several other articles about the Lion Incubator and also on postcards.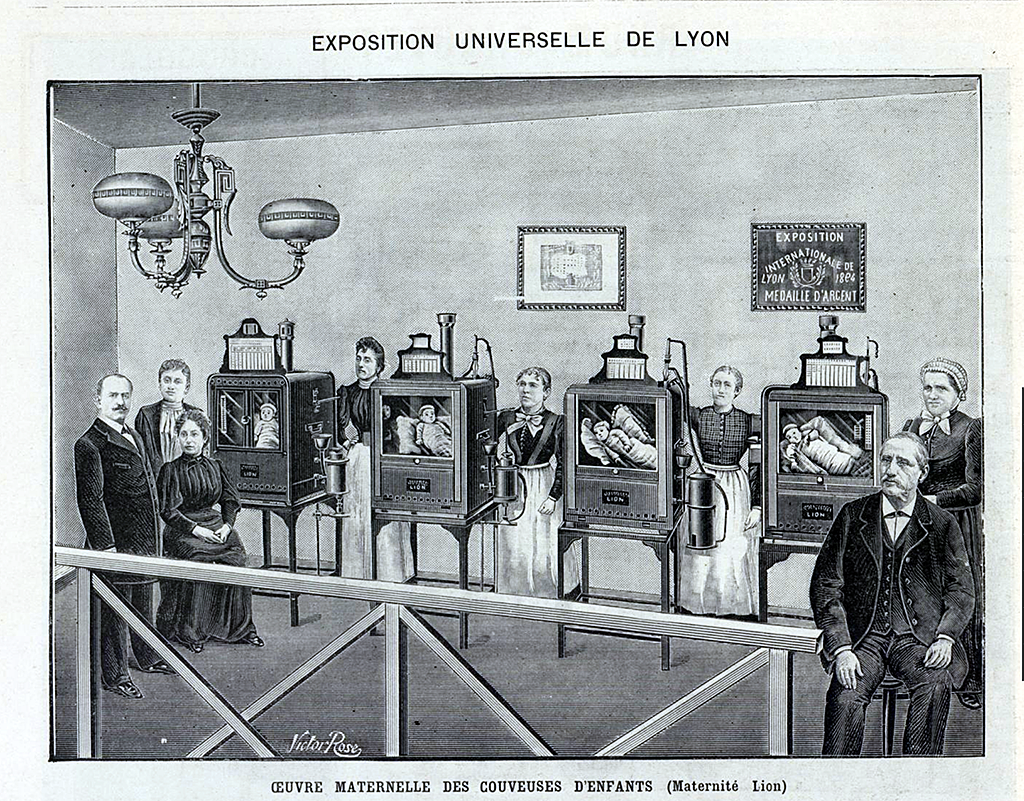 The image below shows five of the Lion Incubators in use, circa 1896, in Lion's storefront for the care of premature babies in Paris, France. Dr. Lion is standing by the end incubator.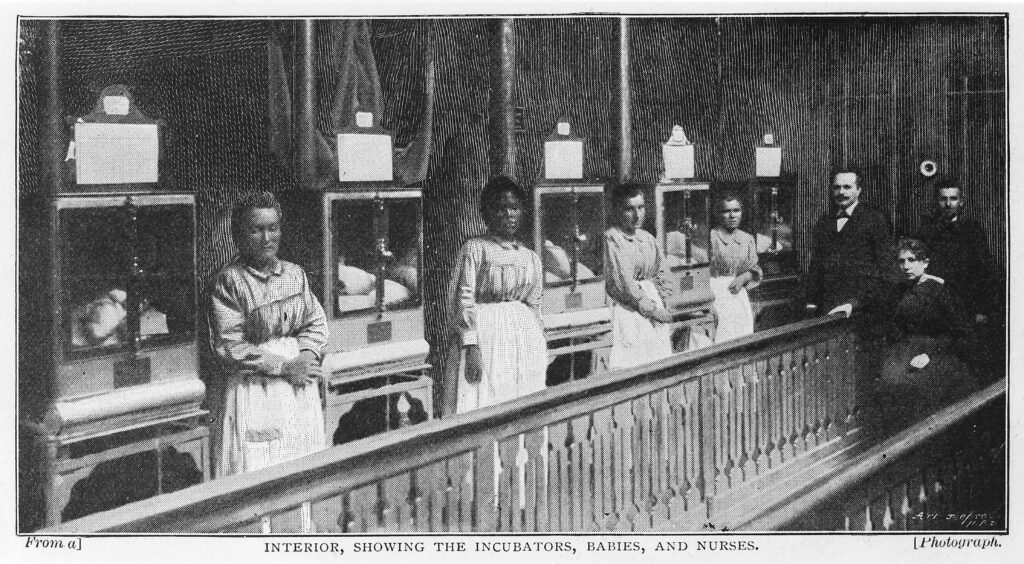 Due to its ready availability and excellent track record in Alexandre Lion's own establishments, the Lion incubators, or incubators of the Lion design manufactured under license, were widely used in exhibitions and sideshows by Alexandre Lion, Martin Couney, and others, beginning with the Kinder-Brutanstalt ("child hatchery") at the Berlin Exposition of 1896 and the Victorian Era Exhibition at Earl's Court of 1897, followed by commercial exhibits as sideshows in the Trans-Mississippi Exposition of 1898 in Omaha, Nebraska, the Pan-American Exposition of 1901 in Buffalo, New York, and many other expositions in the USA in the early 1900s. Both Lion's and Couney's companies also offered the incubators for rent in private homes.
Additionally, many hospitals and charities across Europe acquired the Lion incubators for their own use. Among the known licensees and manufacturers are Paul Altmann in Berlin and Kny-Scheerer Co. in the US. Presumably there was also a manufacturer in France, but I have not located that information as yet. The images below are from the June 1, 1900 operating room catalog of Flicoteaux, Borne, and Boulet in Paris, and the 1915 surgical instrument catalog of Kny-Scheerer in New York.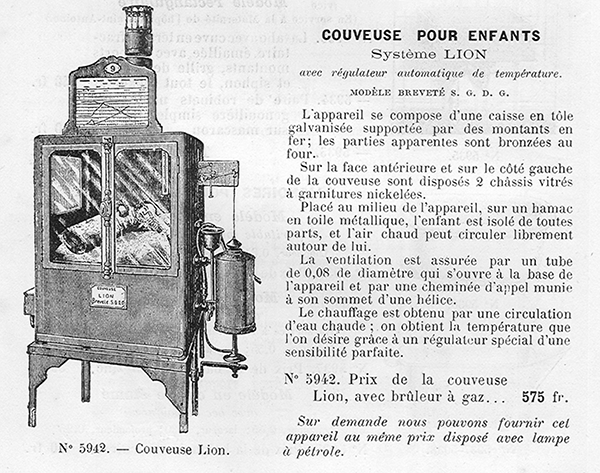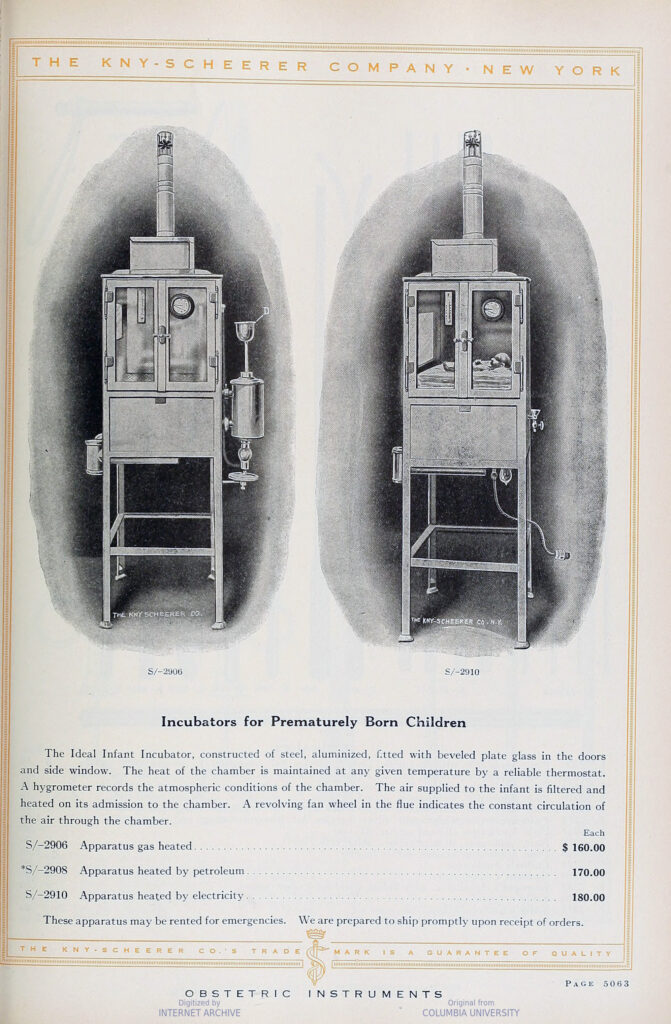 The souvenir booklet from the flagship Lion Institute in Paris ca. 1901 includes the following description of the incubator's operation:
La Couveuse Lion se compose d'un parallélipipède en métal monté sur un support en fer.
Elle peut être désinfectée sans détérioration par l'étuve à vapeur sous pression et avec les désinfectants chimiques. Sa ventilation est assurée par un tube de 8 centimètres de diamètre s'ouvrant à la base de l'appareil et par une cheminée d'appel de même diamètre. Une hélice placée à son sommet indique, par sa rotation, la force du courant d'air.
La face antérieure de la Couveuse est munie d'un châssis vitré à deux battants, avec fermeture à crémone. Sur le côté gauche s'ouvre un autre châssis vitré permettant à la mère ou à la garde de suivre les mouvements de l"enfant et de le prendre au besoin, l'appareil étant placé à côté du lit.
Le fond est coulissé et s'enlève, en glissant dans ses rainures, comme la planchette d'une cage d'oiseau.
Placé au milieu de la Couveuse sur un hamac en toile métallique, l'enfant est isolé de toutes parts, et l'air chaud peut circuler librement autour de luî. Un thermomètre, placé a hauteur de sa tête, permet de suivre la marche de l'appareit.
Le chauffage est assuré par une circulation d'eau chaude dans un serpentin communiquant avec un réservoir placé à côté. Ce thermosiphon peut étre chauffe indifféremment par le gaz, le pétrole, l'ëlectricitê ou par tous autres moyens de chauffage.
Un tyuautage spécial permet de faire arriver directement dans l'appareil l'air extérieur, plus pur que l'air des appartetements et des salles, de le filtrer en outre, avant son entrée dans ta couveuse, et de le conduire d l'extérieur par une cheminée.
Par ces dispositioru, l'air peut être additionné, suivant les indications du médecin, de gaz médicamenteux: oxygene, ozone, essences balsamiques de pin d'eucalyptus, bourgeons de sapin etc.
De plus les dangers pouvant résulter d'une agglomération se trouvent écartés.
Un régulateur transmet à un levier les mouvements de la température et augmente ou diminue, suivant les besoins, la force du courant de chaleur.
Le réglage de la température est assuré automatiquement et d'une façon invariable.
The Lion Couveuse consists of a metal parallelepiped mounted on an iron stand.
It can be disinfected without deterioration by the drying oven, steam under pressure, or with chemical disinfectants. Its ventilation is ensured by a tube 8 centimeters in diameter opening at the base of the apparatus, and by an inlet chimney of the same diameter. A propeller placed at its top indicates, by its rotation, the strength of the air current.
The front face of the Couveuse is equipped with a glazed double leaf window, with a locking rod. Another glazed window on the left side allows the mother or the guard to follow the movements of the child and to take it out if necessary, the device being placed next to the bed.
The bottom can be removed [for cleaning], sliding in its grooves, like the bottom of a bird's cage.
Placed in the middle of the Couveuse on a wire mesh hammock, the child is isolated from the sides, and the warm air can circulate freely around him. A thermometer, placed at the height of his head, makes it possible to follow the status of the apparatus.
Heating is provided by circulating hot water in a coil communicating with a tank placed next to it. This thermosiphon can be heated by gas, oil, electricity or by any other means of heating.
A special pipe allows the outside air, which is purer than the air in the apartments and rooms, to arrive directly into the device, and also to be filtered before it enters the the incubator, and to conduct it outside by a chimney.
By these devices, according to the doctor's instructions, medicinal gases: oxygen, ozone, balsamic essences of eucalyptus pine, fir buds etc. may be added to the air flow.
Moreover, the dangers that may result from the accumulated air are discarded.
A regulator transmits the movements of the temperature to a lever and increases or decreases, according to need, the force of the current of heat. Thus, the temperature is adjusted automatically and and remains constant.
The last page of Alexandre Lion's souvenir booklet lists the various hospitals and Maternités where the Lion Incubator was in use in 1901. He truly was an international entrepreneur.
The image below shows several of the Lion Incubators in use at the Associacao Protectora da Primereira Infancia (APPI) in Lisbon, Portugal, around 1900. Four of the Lion incubators were acquired by APPI's founder, Rodrigo Antonio Aboim Ascensao, after he attended the Paris Exhibition (Paris Exposition Universelle) in 1900 and saw the incubator pavilion there. The incubators were used for several decades.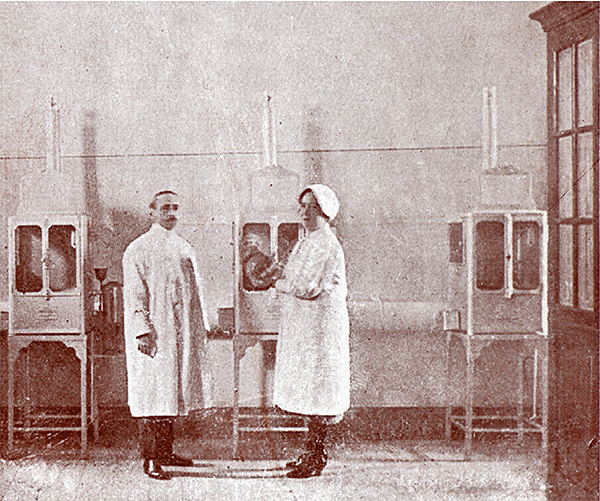 The images below show the front and back of one of the four surviving Lion incubators at Associacao Protectora da Primereira Infancia (APPI) prior to its restoration around 2011. Images from "The Conservation of Baby Incubators: A Balance between Medical Heritage and Social History", by Isabel Tissot et al, 2011.
The image below shows one of incubators at APPI after its restoration around 2011. The incubator is currently on display at the Milk Station Museum in Lisbon, Portugal (museudolactario.fasl.org.pt).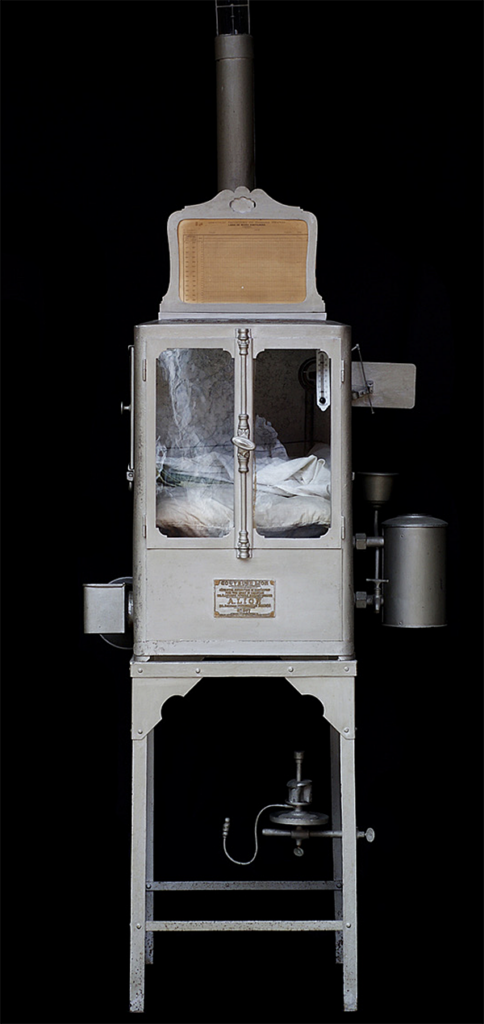 ---
General Information
Press Coverage
Maternité Lion Souvenir Booklets
Worlds Fairs and Expositions